News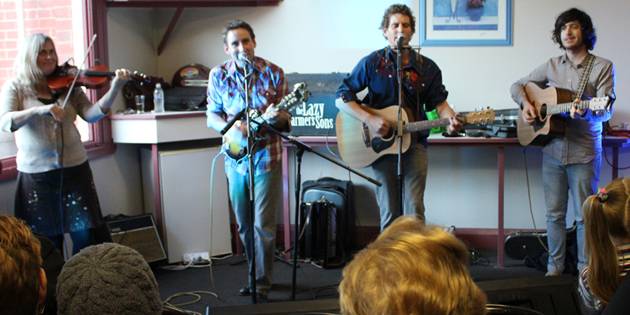 The Lazy Farmer's Sons Launch New CD
Last Sunday local band "The Lazy Farmer's Sons" launched their new CD "Small Sky" at the Royal Hotel. A large crowd of approximately 150 fans packed the venue.
Mick Coates from Maldon opened the show with a selection of Johnny Cash songs. He's been playing and singing for 7-8 years and states he's a broken down publican that's now a hotel broker who loves to sing Johnny Cash and cowboy songs.
Then Andy and Ben Gosling, joined by Kim Perry from Adelaide on violin and former Rainbow boy Jackson Phelan on guitar, performed a set of songs from the new CD and their previous CD.
The audience was treated to an electrifying set of songs in the bush ballad tradition with Andy on vocals, harmonica and guitar while his brother Ben played mandolin, accordion and provided backing vocals.
Mark Woods who mixed and mastered "Small Sky" attended the launch and mixed the sound for the concert.
Kim Perry who is a member of the South Australian folk band "Diddychwy" said how thrilled she was to play with Andy and Ben. In her eyes "The Lazy Farmer's Sons" are exciting newcomers to the folk/bush ballad scene.
Their new album can be purchased from their website, www.thelazyfarmerssons.com.
News items courtesy of the Rainbow Jeparit Argus.
Article posted: Monday, August 5, 2013.