News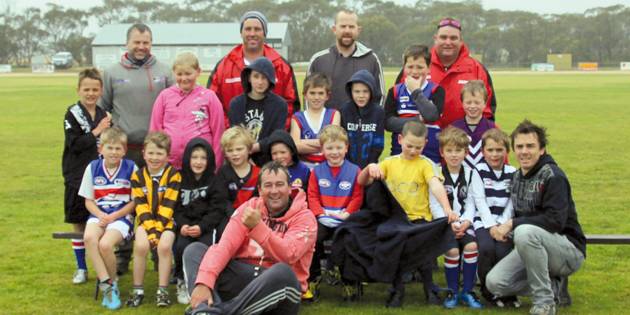 Steve's Kicking Goals
Steve Leach has taken out the Regional Auskick Volunteer Coach of the Year Award for the Wimmera Region.
Steve was surprised to learn that he had won the award after being nominated by an unknown person. "I was really surprised when I got the letter. It was the first I knew about even being nominated," Steve said. "To be nominated is an honour, I just wish I knew who to thank."
The award is offered annually and anyone from any club can nominate their coach.
"It's such a team effort each and every week at Auskick. I wouldn't be able to do all that I do without the help of all the adult volunteers who stand by my side each week. It certainly isn't a one man show," Steve said. "The parent volunteers have been invaluable. Pete Stasinowsky, Allan Roberts, Adam Gould, Andrew Schilling, Travis Clarke and Adrian Eckermann have been absolutely amazing. Also Brad Schumann and Mark Cocks deserve a thank you as well for setting up the goal posts and everything else from week to week. I'm sure there are others as well that I might've missed, so thank you to all."
"There is so much work that is done behind the scenes to make Auskick happen. I feel that I am very lucky to have been noticed. I haven't done anything different or special to deserve this award. Just seeing the kids improving from week to week is reward enough," Steve said.
Auskick in Jeparit and Rainbow has risen from 22 kids 5 years ago to 36 registered kids in 2013 and all are aged from Kinder right through to Grade 6. "We're obviously doing something right here at Auskick," Steve said.
As part of the prize, Steve was invited to a dinner in the Members Dining Room of the MCG where he would be given his award. However, Steve cannot attend this function due to other commitments. "It's a real shame, but I had travel plans that I couldn't postpone to be there. I have been given an opportunity to accept my award at a regional event later this year or early next year," Steve said.
"I just want to say thank you to those people who put in the nomination. I feel indebted to those who took the time to put my name up. It really was a great surprise, so thank you," Steve concluded.
News items courtesy of the Rainbow Jeparit Argus.
Article posted: Wednesday, September 25, 2013.