News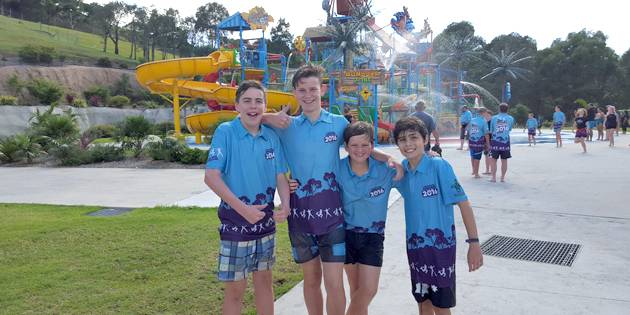 Scouts return from Jamboree fun
From Claire Roll
"Leap into Adventure" is exactly what Matthew Thomas, Chris Cook, Jordy Leach, Nicholas Roll and Sarah Bennett did these school holidays at the 24th Australian Jamboree at Cataract Scout Camp, Sydney. Along with leaders, Gunner and Claire Roll, and 10,916 Scouts and Leaders, we set up camp for ten days of fun, friendship, activities and mud!
Not quite what we were expecting, but it only added to the atmosphere and after the first day, Road was crossed off our sign, and became Gibb River. Scouts from Rainbow and three Melbourne Groups – Camberwell, Malvern and Ashburton – camped together and became Troop A228.
Scouts started their morning at 6:30am, and during their time at AJ got to go on three days of offsite activities to Sydney CBD, the Beach and Jamberoo – a water park. The other seven days were filled in with Adventure Activities such as the Giant Swing, Giant Slide, Laser Tag, Circus School, the Shed, Brownsea Island, Challenge Valley and Endurance just to name a few. Saturday was a Market Day, and with their nail polish and hair spray, Scouts were ready to earn some Jamboree Dollars. Lots of fun and a rest day.
But I think it was the free time activities that got the Scouts most excited, badge swapping with other districts, states and countries and making new friends. Evenings were filled with activities at the main arena, from concerts, discos, comedy night and AJ Has Talent. Not to be out done there were also activities at the Mall and mini arena to keep Scouts busy.
In amongst all this, each patrol took turns at being duty patrol. Cooking the meals, keeping the campsite clean and taking advantage of going and having a shower. In the afternoon, the duty patrol would have to take the cart to collect the evening meal, breakfast and lunch.
Over the camp, there was 115,000 bananas, 14.5 tons of watermelon and tomatoes consumed. For each evening meal there was a delivery of 3.5 tons of meat. 130,000 taco shells were also consumed to name but a few. Each sub camps Q Store would rival our IGA.
After ten days of food, excitement and activities it was time to say goodbye after the closing ceremony, where Cyrus and Samantha Jade performed and fireworks sent us on our way. Slightly delayed, we arrived back in Horsham with five dirty, dusty and muddy kids, with smiles bright.
If you see them, ask them of their Scouting adventure. Or come along on Tuesday nights at 6pm for Scouts, and "Leap into your own Scouting Adventure". We are looking for leaders and kids are always welcome.
Pictured are Nicholas Roll, Matthew Thomas, Max and Alex at the Jamberoo water park.
Article posted: Monday, February 8, 2016.