News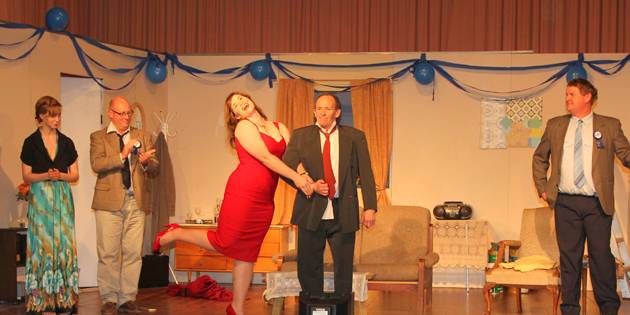 Rainbow Takes Centre Stage
Re-Electing Roger
The Rainbow Players Production of Re-Electing Roger was held on Friday August 29th and Saturday August 30th. Over two hundred people attended the play over the two nights. They witnessed a polished performance of the Ken Cotterill play, which was directed by Rob Koning and produced by Ann Frazer. The story of political skulduggery was full of twists and turns. It provided many memorable moments.
Ian Herben and Jenny Solly, who were in a Rainbow Players production of this play in 1990, again showed off their considerable acting skills. They carried off their roles to perfection.
Newcomer Allan "Boots" Lehmann never missed a beat while Charlotte Downs was spot on in her role. Natalie Frew provided one of the highlights with her transformation from "dippy" junior typist. Mal Smith and Fred Saul provided strong support in their roles.
Those on stage had great support from the back stage crew of Georgia Clifford King, Georgia Gelligen and Bridget Ismay. Front of House support was provided by Karen Koning and Ella Clarke, while Peter Solly handled the light and sound. Thanks to the staff at Schillings Service Station for the ticket sales.
Rob Koning wishes to thank everyone in the team, with a special mention to "Boots" and the girls.
Ann Frazer thanks all the good people who helped her get the props for the stage, especially the McLean family and Carol Phelan who are always happy to help. She also thanks Alison Ey who is her saviour when it comes to technology. Also thanks to Robert Long who every year comes to the fore with a treasure trove of props for the set.
Ann and the rest of the Players wish to thank all the good people of Rainbow and surrounds who come and support them every year. Without an audience there would be no play. Thank you to everyone for coming.
News items courtesy of the Rainbow Jeparit Argus.
Article posted: Tuesday, October 28, 2014.