News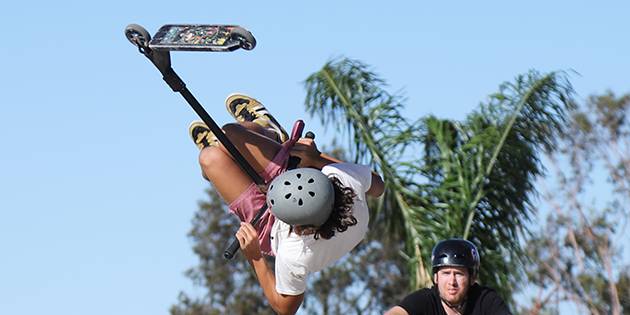 Rainbow skatepark competition draws large crowd
About sixty people, split evenly between adults and children, attended the competition which was held at the Rainbow Skatepark on Friday February 8. They witnessed some great work from some talented local competitors and outside competitors. It was great to see children of all ages competing. The event organisers were extremely pleased with the attendance.
The Skate Park League competition is a program that began in 2007 as a joint undertaking between YMCA Action Sports and the Victorian Skateboard Association. From seven events in the south eastern suburbs of Melbourne the League now runs about one hundred events all over Australia.
Jaime Eckermann won gold medals in the three events he competed in including BMX, scooter and skateboard while Xavier Oakley also did well against strong competition.
Jaime then competed at Dimboola on Saturday where he finished first in the U12 boys skateboard and second in the U14 boys scooter.
The results from Rainbow's events are as follows:
Scoot
14 and Under: 1st Jaime Eckermann; 2nd Will Fisher; 3rd Addison Fisher.
15 and Over: 1st Ethan Clyde; 2nd Xavier Oakley; 3rd Trevor Leggo.
BMX
14 and Under: 1st Jaime Eckermann.
15 and Over: 1st Chris Barnes; 2nd Christian Salpietro; 3rd Xavier Oakley.
Skate
12 and Under: 1st Jaime Eckermann.
16 and Under: 1st Jordy Leach; 2nd Murphy Leach; 3rd Joad Fuller.
Open Female: 1st Tessa Leach; 2nd Ayla Roberts.
At the Dimboola event, Jaime Eckermann came second in the Scoot 14 and Under section, and first in the Skate 12 and Under with brother Dustin Eckermann coming in second in the same section.
Phoenix Oakley came second in the Skate 16 and Under section.
News items courtesy of the Rainbow Jeparit Argus.
Article posted: Thursday, February 21, 2019.