News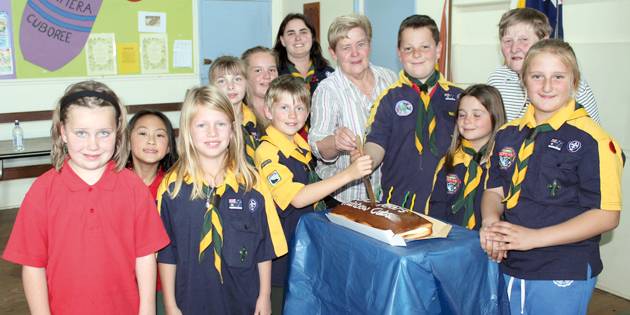 Rainbow Cubs Celebrates 50 Years
The Rainbow Cub Pack celebrated its formation 50 years ago on Tuesday. On the 27th of August 1963 when it was decided to revive Scouting in Rainbow, it saw the start of the first Cub Pack. It officially started on the 6th October 1963 and meetings were held at the Rainbow Recreation Reserve in the Pavilion.
Rainbow Cub Pack has had many boys and leaders join over the time, and of course girls are also now able to join in the fun. We meet at the Scout Hall and participate in activities such as the Billy Cart Races, Gettin' Wet and district camps. As a pack we meet on Tuesday night and over the year we cover cooking, first aid, compass and mapping, cub traditions, jungle activities and knotting just to name a few.
Rainbow Cub Pack continues to help our youth grow, learn and become community members. As our "Adventurer Continues" would you like to be apart of it!
Former leaders Sharyn Gelligen, Marg Mellington, Kaye and Pat Goodall joined the current Rainbow Cubs for a cake and party.
News items courtesy of the Rainbow Jeparit Argus.
Article posted: Wednesday, September 25, 2013.