News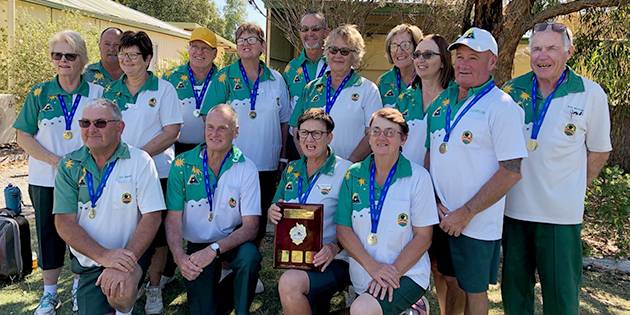 Rainbow come home Premiers in Midweek Pennant
January 31 saw the finals of the North Wimmera Midweek Pennant being played at Warracknabeal Golf which included the Semi Final, played in the morning, and the Grand Final, played in the afternoon. The weather was friendly on Thursday after a change was made from Wednesday due to the hot weather.
Rainbow played Minyip Rupanyup in the first game winning comfortably by 30 plus shots with the final score 60-32.
Beulah played Warracknabeal in the other final which ended up a draw at 47 all so they had to play an extra end. Warracknabeal won by one shot 50-49.
After lunch Rainbow played Warracknabeal in the Grand Final, with Rainbow winning by five shots. It was extremely close throughout the game with the lead changing many times and the scores were often level throughout the match.
There was some tight heads and some great draw bowling. The result hinged on the last two ends of the game between Gaile Arnold and Elaine Fuller's teams as the other two games had finished.
Rainbow held a three shot lead at this stage. Warracknabeal scored one on end 53. Rainbow held their nerve and won the game and the Pennant final with a three on the last end.
Final result: Rainbow 49 Warracknabeal 44.
Wendy Sleep (s), Joe Gould, Maureen Petschel, Greg Sleep lost to Debra Steed (s), Gary McLean, Graham Walder and Alwyn Bell 13-15.
Elaine Fuller (s), Lorna Sleep, Rob McLean and Colin Weir def Gaile Arnold (s), Brian Taylor, Calvin Pendlebury and Verna Blackley 20-10.
Debbie Lowe (s), Teresa Gould, Darron Cook and Col Gebert lost to Robyn Goodwin 16-19.
Pictured are the Rainbow Midweek Pennant team with their medals and the winning shield after a tough battle against Warracknabeal on Thursday afternoon.
Back from left: Elaine Fuller, Den Gould, Pam Weir, Col Weir, Wendy Sleep, Joe Gould, Lorna Sleep, Maureen Petschel, Amanda Sluggett, Darron Cook and Rod McLean.
Front from left: Col Gebert, Greg Sleep, Teresa Gould and Debbie Lowe.
News items courtesy of the Rainbow Jeparit Argus.
Article posted: Thursday, February 21, 2019.