News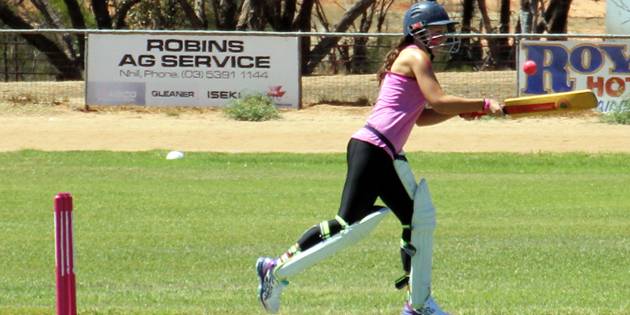 Pink Stumps Day Success
It was an absolutely glorious day for a game of cricket as the tennis club and cricket club came together to play a modified 20/20 for Pink Stumps day to raise funds for the McGrath Foundation.
It was great to see the turnout with both young and old donning the pink hats and zinc cream in the name of a good cause.
All names were put into a hat and two teams were selected to battle it out on the field ably captained by Matthew Thomas and Adam Gould.
Highlights included:
Simmo talking up his cricketing skills the night before
Max McKenzie's lovely pink tights!
Potsie's on field commentary (he should have been miked-up)
The abstract bowling from those not accustomed to the fine art of cricket
Baz's near catch!
Simmo snapping a stump in half with a magnificent throw
The generous butterfingers of all involved (to make it a fun day)
Hank's gallant fielding effort (it was a nice roll)
Eric's (our US import) initiation to the game of cricket (with a little baseball flavour as well)
Bridget McKenzie nearly taking two great catches
The well of knowledge from our umpire Kate McKenzie
The detailed scoring from stats master himself Fred Thomas
Jenszy's magic with the bat
Big THANK YOUS go to:
Leroy for organising the raffle
Millie for providing that gentle persuasion she can only do on a Friday morning with the raffle
Ian McKenzie for cooking the BBQ
Les Graetz for the publicity and photos (well most of the photos!)
The ever vocal spectators
Those who donated their time to play on the day
Anyone who donated money to this very worthy cause
To keep Potsie happy the final score saw his team make 89 runs to come away with a 28 run victory.
The raffle made $329, the donation box at the butchers and on the day made $226.55 with another $100 donated online.
This gave us a grand total of $655.55 for the event. For our first up effort this was a mighty good result!
We are hoping to burn one of the bails (and maybe put them in a pink Tupperware container) to make this an annual event where we combine both tennis and cricket on the day and raise more funds for such a worthy cause.
News items courtesy of the Rainbow Jeparit Argus.
Article posted: Tuesday, March 11, 2014.