News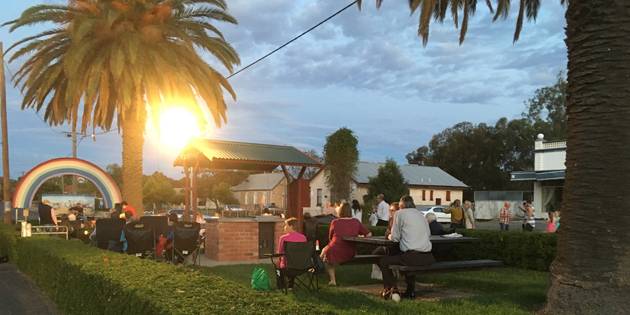 Open Mic evening a big success
The Open Mic event held in the Federal Street gardens last Friday was a huge success with up to 100 people listening to the eleven acts. A pleasant autumn evening provided the right atmosphere for the audience to enjoy the entertainment provided by some talented locals. As well as the locals there were participants from Hopetoun, Beulah and Warracknabeal.
The evening began with Mal Smith and his music students from the Rainbow P-12 College. Nicholas Roll playing guitar was the opening act of the evening. Then Alannah James sang two songs. Jack Lowe, Jordy Leach on guitars played behind her with first Joad Fuller and then Murphy Leach on drums.
Rob Koning recited some poetry before Peter Gosling took the stage to perform. Next up was the very talented Maurice Conway from Hopetoun; the singer songwriter had the audience listening intently to his songs.
Local act Ally and Dave then picked up the pace with their country rock before Alan "Boots" Lehmann recited some more poetry. Alison Ey also performed a number of songs well to the crowd.
After that Jennifer Anderson took the stage, showing her professional background, she sung the very appropriate "Somewhere over the Rainbow" followed by a powerful and passionate "Bridge over Troubled Water".
Next up was Ash O'Sullivan from Warracknabeal. He had only heard of the event earlier in the afternoon and made the decision to come to Rainbow and participate.
The final act was Andy and Ben Gosling. Ben then thanked the Hindmarsh Shire and the Victorian Government for their financial support for the event. He also thanked those who helped set up, the Lions Club for providing the barbeque and the musicians and poets for providing such great entertainment. Ben also thanked Rohan Anderson for helping with the sound and everyone who came to listen.
News items courtesy of the Rainbow Jeparit Argus.
Article posted: Wednesday, April 27, 2016.