News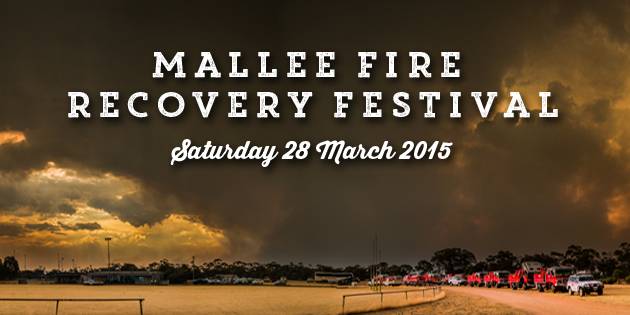 Mallee Fire Recovery Festival
The Mallee Fire Recovery Festival will take place on Saturday 28 March 2015 in Federal St Rainbow. This event will recognise and celebrate the efforts of all who were involved in firefighting and recovery efforts for the Mallee Complex of fires, including Wyperfield National Park in 2014.
More than 100 CFA Brigades, along with DEPI staff, Parks Victoria Staff and many community volunteers worked tirelessly to control the fires which burnt more than 100,000 hectares in early 2014. This event will see the main street of Rainbow come alive late afternoon with a variety of activities aimed at engaging the local community and visitors alike. An open air concert kicking off with local act Ally and the Cats at 5.30pm followed by The Lazy Farmer's Sons who will lead us in to the main acts for the night - multiple Australian Country Music Award winning band The Davidson Brothers and The Pigs - famous for their bare feet bad behaviour and supercharged 'Aussie Hillbilly Pop' - will ensure all in attendance have an enjoyable night for less than the cost of a coffee! Entry to the event will be via Gold Coin Donation with a variety of catering options available on the day. The local hotels will be in operation throughout the event so there will be no BYO alcohol allowed which will be strictly enforced.
Bring your family, your chair and a great attitude to enjoy a fantastic event! This event has been funded by the Victorian Government's 2014 Bushfire Recovery - Community Events Package with support from Hindmarsh Shire Council.
Photo courtesy Lynton Brown.
Article posted: Wednesday, February 11, 2015.