News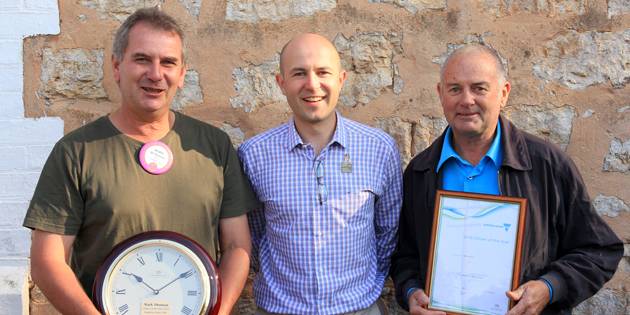 Large Crowd celebrates Australia Day in Rainbow
Large Crowd celebrates Australia Day in Rainbow
On a cool morning about 100 people attended the Australia Day celebrations in Rainbow. After a wonderful breakfast provided by the Lions Club, the official part of the morning began.
Lions Club President Steve Newton welcomed the Hindmarsh Shire representatives Mayor Debra Nelson, Councillors Ron Ismay and Ron Lowe plus Shire CEO Tony Doyle. Steve also welcomed the guest speaker Matthew Albert and his wife Emily.
Rainbow Citizen of the Year
Mark Thomas has been named as the Lions Club Rainbow Australia Day Citizen of the Year for 2016.
Mark is involved in many community clubs and organisations. These include the Rainbow Lions Club, Rainbow Tennis Club, Werrap Fire Brigade, Rainbow Cemetery Trust, Gregson Park committee of Management, Rainbow Badminton, Rainbow Scouts and Jeparit Rainbow Football Netball Club.
Mark was heavily involved in the relocation of the tennis courts to the Recreation Reserve. In accepting his award, Mark thanked his family for their patience during this process. He also thanked the community for their wonderful and kind support during the current tough patch his family is experiencing.
Bill awarded Hindmarsh Shire's Citizen of the Year
Bill Hutson is a tireless volunteer, always willing to help with community projects and able to rally the community behind a variety of town beautification and development initiatives. He is involved in several committees, including Secretary of the Rainbow Town Committee, Chairperson of the Rainbow Civic Centre Management Committee (a position he has held since 1999) and as a member of the Rainbow Dance Club.
Along with Bill's commitment to many committees, he has been one of the driving forces behind the Federal Street rainwater harvesting scheme. He has been involved in the landscaping of the RV dump area in Rainbow, which included community members alongside "Hands On Learning" students from Rainbow P-12 College. Bill was also instrumental in the construction of the "Gazebo Garden" in Federal Street.
Bill is a big advocate for Rainbow and leads by example to encourage other community members to become involved in their community.
Bill would like to acknowledge the tireless work of others who have helped him with his roles to achieve the results listed above. First of all to Allan Roberts, who always looks after the gardens so magnificently. Allan is always tending to the gardens; pruning, weeding, mowing. There's always something that needs doing and Allan will always do it. There are also countless members on committees who all help out when required.
Bill would also like to give a special mention to all the new residents who have made Rainbow home. There are good people coming into the town and offering to help out when required. Without new residents, Rainbow would die a slow death, and the new residents make the town new again.
Bill concluded with a request for all to shop local. There are so many people who have shops open in Rainbow and stock anything you could possibly want. Keep local money local.
Pictured are Rainbow Citizen of the Year Mark Thomas, Guest Speaker Matthew Albert and Hindmarsh Shire's Citizen of the Year Bill Hutson.
News items courtesy of the Rainbow Jeparit Argus.
Article posted: Monday, February 8, 2016.