News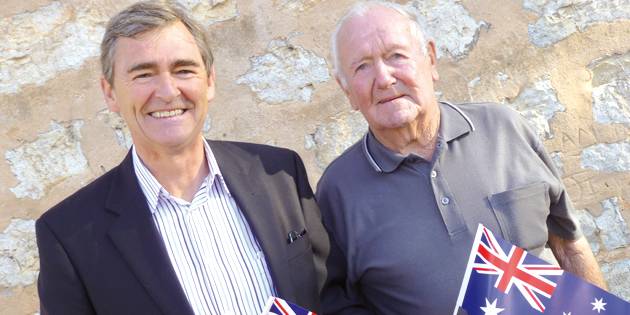 Australia Day celebrated in Rainbow!
Proudly supported by the Rainbow Jeparit Argus.
Diversity, sense of community and our unique landscape are the things that make us Australian, according to Australia Day ambassador John Brumby.
Hindmarsh Shire residents celebrated Australia Day with events in all four towns, attended by John Brumby and his wife Rosemary as well as the Mayor Rob Gersch and Hindmarsh Shire CEO Dean Miller.
The day kicked off with the traditional Lion's Club breakfast in Rainbow. A large crowd turned out to enjoy a bbq and a nice hot cuppa on what was a very brisk morning.
Rainbow's Lions Club Citizen of the Year award was presented to Frank Thomas, a very deserving local who has given back to the community in many ways over many years, including through his association with the Lion's Club. Frank had many family members in attendance to share in this moment with him.
Frank said he was very honoured to receive the award.
Former Premier John Brumby then addressed the crowd, sharing his thoughts about what makes us Australian, what distinguishes us.
He spoke about our diversity and multiculturalism, which he feels defines us, "We all get on and we all benefit from the great diversity," Mr Brumby said.
Next he touched on our sense of community and volunteerism. "One of the great strengths of country Victoria is our commitment to helping others and building a stronger community."
The third thing which Mr Brumby felt defines us is the beauty of our landscape, "There is nowhere like Australia. There are very few places in the world that compare to our magnificent environment."
In looking to the future, Mr Brumby said we are living in a 'century of opportunity'. With the centre of world economic power moving back to the east, he said, this gives us an unprecedented opportunity to take advantage and meet the demands of those markets around us through mining, tourism, agriculture and education.
Mr Brumby closed by saying "If we combine hard work with innovation then the world is truly our oyster.
"So celebrate Australia Day, celebrate our people, celebrate how you make our community great, celebrate our great landscape and then think about how we can take advantage of the great opportunities that are around us in the years and decades to come. Happy Australia Day."
Article posted: Wednesday, January 30, 2013.